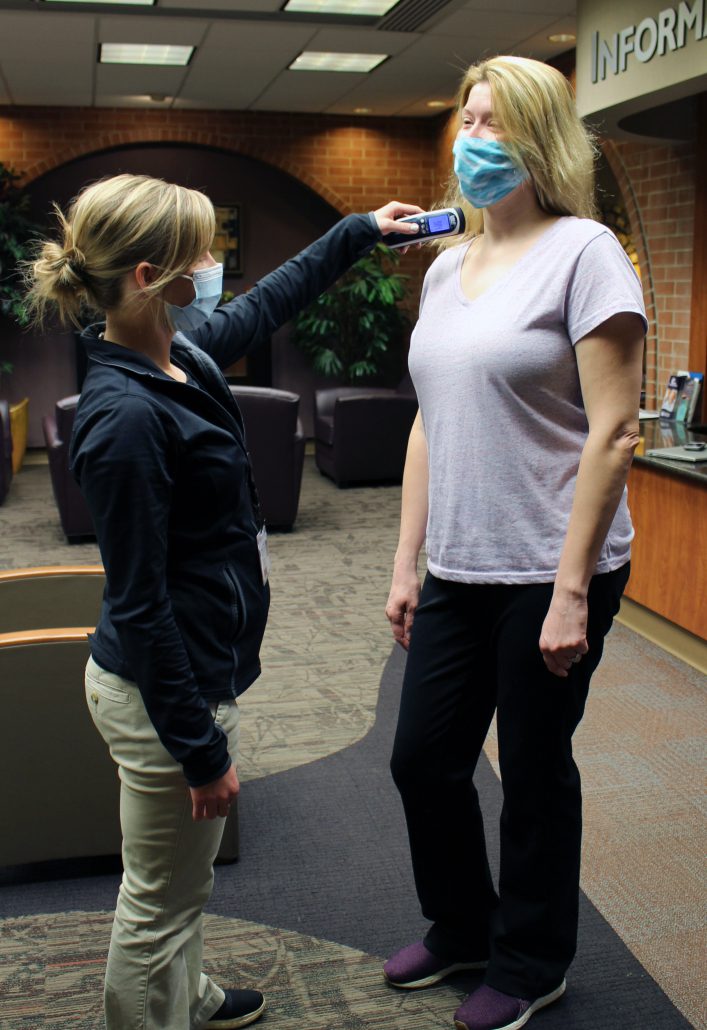 Until further notice, all FCHC facilities are currently restricting all visitors. These limited visitation rules apply to the hospital and physician offices.
Due to the COVID-19 virus, restrictions and precautions implemented these past few weeks will remain in place to ensure a safe healing environment.  These restrictions include:
All persons who enter our facilities will be screened, have their temperature taken and be asked to wear a mask. Please bring a mask and have it on before entering our buildings. For those who do not have a mask, one will be provided for you.
Please perform hand hygiene when you arrive and before leaving
Please notify your provider or department prior to arrival if you are experiencing a fever, chills and/or respiratory symptoms (including cough, shortness of breath, sore throat, headache, or loss of taste or smell)
We continue to practice visitor restrictions to help prevent the spread of COVID-19 and to maintain as safe an environment as possible for our patients and employees. Adult patients are asked to come alone unless a companion is needed for safety, behavioral, mental status, or developmental delay concerns. If no assistance is needed, we ask any companion to remain in their vehicle while we provide care. Pediatric patients are limited to one parent or guardian at all times.
All patients coming for hospital based services including surgery and ancillary services should come through the main entrance. Those coming to the Emergency Department, North or South Medical Office Building, may use those entrances, but access to the main hospital from those areas is restricted.  To come into the hospital from those areas you will need to enter through the main entrance of the hospital
Visitor restrictions for Fulton Manor continue to remain in place per order of Governor DeWine.
Inpatient Visitors
We recognize that there are times when having a visitor or family member present is crucial. In these cases, visitors will be allowed based on the exceptions listed below. Please note in all cases a visitor will only be allowed if they do not have symptoms of respiratory infection (fever, runny nose, cough, shortness of breath). Additionally, children under the age of 16 will not be allowed except under extraordinary circumstances. Exceptions include:
Obstetric patients may have one partner or one birth support person accompany them.
For the Nursery:

Birth parent plus one significant other. Must stay in the room for the duration of the visit

Patients who are at the end-of-life may have limited visitors.
Patients with disruptive behavior, where the staff determine a visitor is key to their care may have one visitor.
Patients who have an altered mental status or developmental delay/s and/or disability (where caregiver provides safety) may have 1 visitor.
Minors under the age of 18 may have one visitor: parent/s, or guardian/s.
Patients undergoing surgery or procedures may have 1 visitor who must leave the hospital as soon as possible after the procedure/surgery.
Patients who have an appointment at laboratory, or radiology may have 1 person with them under the provisions specified above or for safety.
Emergency Department:
Pediatric patients under 18: One designated parent/guardian
One visitor if needed for safety, behavioral, mental status, developmental delay
End of life – limited visitors
The ED waiting room is closed to visitors. They must reside in their vehicle or other location. Visitor contact information should be left with ED staff as applicable for all notifications.
Visitors allowed, must stay in the patient's room throughout the entire length of the visit. Once the visitor leaves the patient room, they must leave the medical center. Phone calls to your loved ones are welcomed. You will be asked to designate one family member to be the main point of contact for all medical updates. That individual may call the nurses station for any updates they or questions they may have on their loved one.
Please note that visitors will not be allowed for patients with a pending or positive COVID-19 test.
Fulton Manor Nursing and Rehabilitation
Fulton Manor is currently restricting all visitors. Exceptions will be considered for extenuating circumstances, such as hospice patients, or when a visitor is essential for the patient's emotional well-being and care.
We apologize for any inconvenience this may cause. Ensuring our patients and employees are cared for in a safe and healthy environment is our first priority.