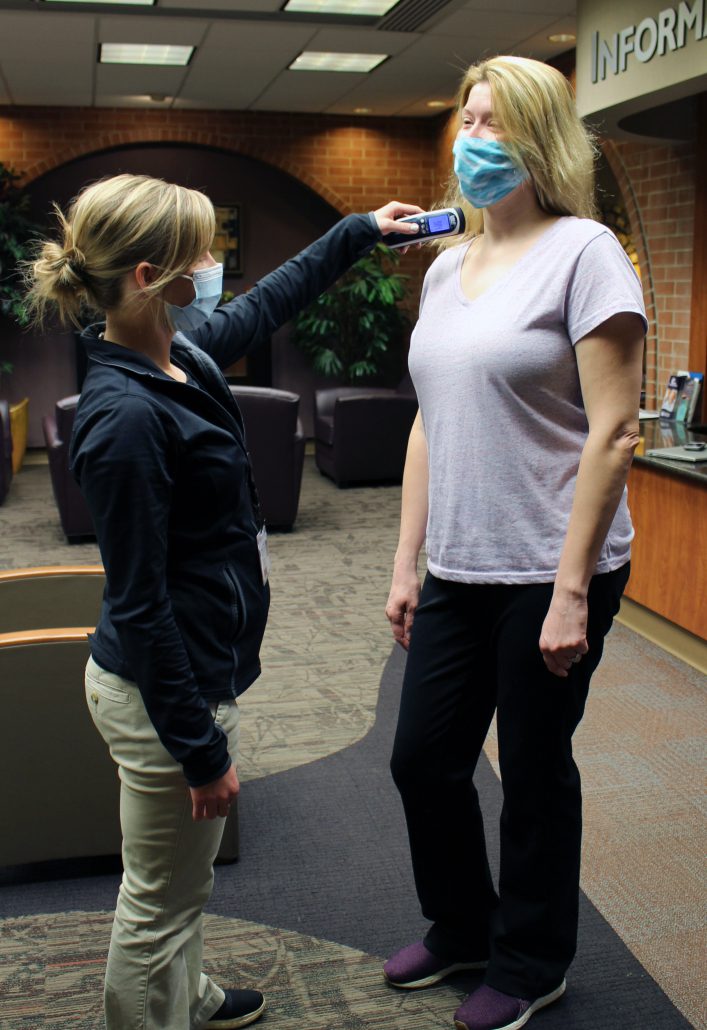 Restricted Visiting Policy:
 As we learn to live and work in the "new normal" with COVID-19, FCHC is moving from 'restricted' to a 'limited' visitation policy according to the following guidelines.
 FCHC General Guidelines:
To reduce facility-based transmission, no visitors will be allowed in rooms of Persons Under Investigation (PUI's) or COVID-19 positive patients.
All people entering FCHC must wear a face covering.
Children under the age of 16 are not allowed as companion/visitor at this time.
All people entering FCHC facilities will be screened with temperature and current wellness questions. Those with fever or flu like symptoms should not enter the facility.
The cafeteria is open to those requiring services at FCHC and companions of hospitalized patients with a limited menu available. The cafeteria is not open to the general public.
The Gift Shop is open under limited hours with not more than 2 customers at a time
Patient / Visitor Information
Face mask must be worn in FCHC facilities.
Wash or sanitize hands often and must be done before leaving patient rooms
Limit touching multiple surfaces in the patient room.
For those that cannot visit a loved one, iPad technology is available for communication, ask your primary nurse or nursing supervisor if assistance is needed.
FCHC Services:
In-patient visiting hours are 8:00 AM to 6:30 PM daily.

One designated visitor is allowed throughout the patients stay 
 Surgery/Procedures:

One visitor/companion
Remain in designated areas and follow staff instructions
Obstetrics:

One partner and one birth support person accompany them.
No children under the age of 16
Nursery:

Birth Parent plus one significant other
Patients who are under the age of 18:

May have two parent/s or guardian/s

Patients who are at the end-of-life may have limited visitors
Emergency Department:

One companion/visitor with patient
Patients under 18 may have two parent/s or guardians.
ER waiting room remains closed to visitors to maintain social distancing

Out-Patient services:

One companion may accompany patient to appointment
When available, telephonic screening of recent travel and wellness will take place prior to coming in for appointment, along with screening upon arrival.

Limited visitation policy includes FCHC Employees that have family members who are in the hospital.
Fulton Manor:
Resident & Family Outdoor Visitation Guidelines
Visitation guidelines updated 8/17/2020
Visitation will occur after consideration of the case status in the surrounding community, case status in the facility, staffing levels, access to testing of residents and staff; PPE supplies, local hospital capacity; and implications for resident physical and mental well-being.  Visitation may be suspended if any of these areas pose a safety concern for residents or if the county risk level is raised to a 3 or 4.
Level 3=Public Emergency: very high exposure and spread.  Limit activities as much as possible.
Level 4=Public Emergency: severe exposure and spread.  Only leave home for supplies and services.
Visitor screening and education:  All visitors must be screened prior to visit.  The screen includes a health screen and temperature. Visitors will be required to sign in, complete screening, and sanitize hands.  COVID-19 education will be given to residents and visitors on the risks of spreading the virus when interacting with others and the potential impact on all residents of Fulton Manor.  Staff is responsible for providing oversight to ensure visitors' contact information is completed, screening and temperatures are taken, facemasks are in place, and hands have been sanitized.
Scheduling of visits:  Visitors requesting a visit will contact the Fulton Manor Activity Department @ 419-335-2017. During this call, a visit location will be given with instructions to go to the location upon arrival to the facility only if the location is vacant.  If any residents or other family members are present, visitors will be required to wait in their car until the location has been vacated and cleaned.  Scheduled visits are subject to change based on the weather, since only outdoor visitation is allowed at this time.
Visits may be scheduled on Monday and Wednesday @ 10:00 am-12:00 pm.
Visits may be scheduled on Tuesday @ 2:00 pm-7:00 pm.
Visits may be scheduled on Saturday @ 2:00 pm-5:00 pm.
 Location of visits:  The front entrance, and back patio are designated for visitation.  Depending on the number of visitors, the front entrance and back patio will be considered for 2 family visits. The north patio may be used as needed.
Number of visitors permitted:  All visits will consist of one resident, except in the case of married couples who live together, and only visitors from the same households.  No more than 3 visitors shall be permitted per resident per visit.  Visitors from separate households are required to schedule separate visits.
Age of visitors permitted:  Children under 2 years of age and others unable to follow social distancing guidelines are not permitted to visit.  Visitors must be at an age of maturity to facilitate social distancing and not be a distraction to other residents, visitors, or staff.  We encourage window visits for these individuals to ensure safety is maintained for residents.
Visits are limited to 45 minutes.   Be aware of weather conditions such as the sun, wind, and heat.
Hand hygiene:  All visitors much wash their hands or use hand sanitizer before, during, and after the visit.
Social Distancing:  Visitors and residents must maintain social distance from one another during the visit, of at least 6 feet.    Markers may be placed to help ensure social distance is maintained.  Please stay in the designated location during the entire visit.
Face coverings/masks:  All visitors and residents will wear face coverings during every outdoor visit.  Face coverings should be applied when departing from their vehicle.  Visitors should bring their own face coverings.  Due to the wearing of face coverings food or drink may not be shared during this time.
Cleaning and disinfecting will be completed between each visit.
Contact-free visits: Resident and visitors are to have contact-free visits.  If contact does occur the visit is considered complete and the resident will be brought in to maintain safety.  The resident will be asked to wash hands thoroughly upon returning indoors and change clothes.  Items such as wheelchairs or other touched items will be cleaned and disinfected.
Staff will escort the resident from their room to the visitation location and back into the facility
These visitation protocols have been established to maintain the safety of residents, staff and visitors.  Only those who agree to and can follow these protocols are permitted to visit.  Visits will not be scheduled for residents in quarantine.