About Us
Fulton County Health Center is a critical access hospital serving the residents of Fulton County Ohio and surrounding areas.  We are located on 725 S. Shoop Ave. in Wauseon, Ohio.  We opened our doors in 1973, moving from across the street from the old Detwiler Hospital.
Fulton County Health Center offers a wide variety of program and services including:
Fulton Manor Nursing Home & Fulton Suites
FulCare Behavioral Health Adult and Geriatric Services
The Rainbow Hematology/Oncology Treatment Center
The Family Birthing Center with comfortable birthing rooms
An expanded Emergency Room
Modern Outpatient Surgery Suites
Larger Radiology & Laboratory departments
Fulton County Health Center Rehab
FulCare Occupational Medicine Program
FCHC Sleep Disorder Centers
Comprehensive Diabetes Education programs
Corporate and Community Health programs
FCHC Wound Care and Hyperbaric Center
Weight Solutions program
FCHC Wellness Center including a modern fitness center at 138 East Elm Street in downtown Wauseon
Our Mission Vision and Core Values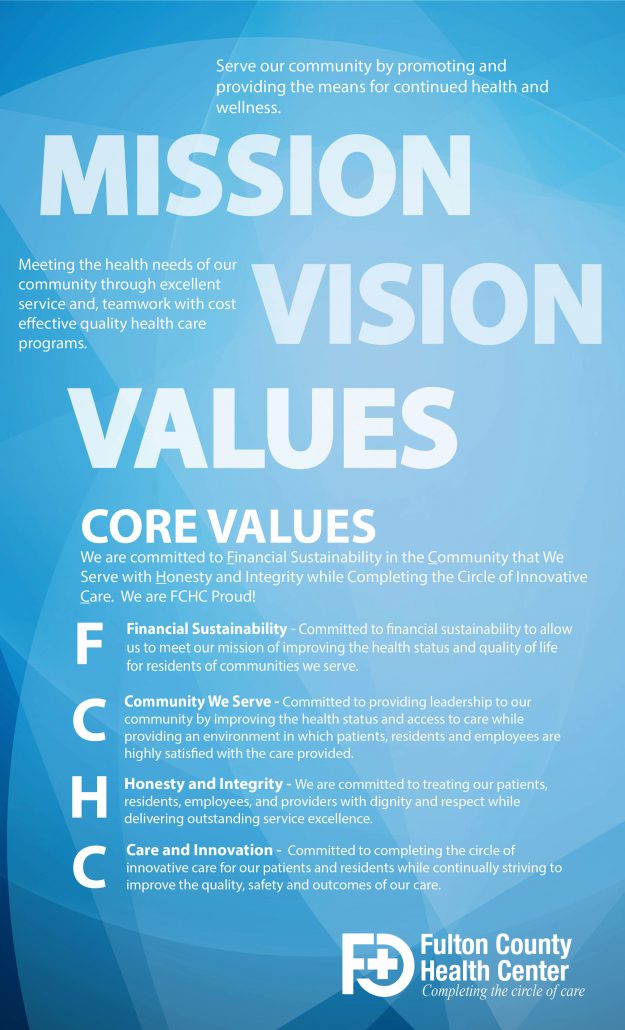 Our Credentials
To ensure we are providing high quality healthcare, we undergo a regular and comprehensive review of our services. These reviews are performed to evaluate and certify the various services we offer.
Accreditations/Certifications
Health Center: The Joint Commission
Fulton Manor: The Joint Commission
Laboratory: The Joint Commission
Mammography Department: American College of Radiology, FDA/Mammography Quality Standards
Nuclear Medicine: Nuclear Regulatory Commission
Obstetrics: Ohio Department of Health (Level I)
Oncology/Hematology: American College of Surgeons, Member of the Eastern Cooperative Oncological Group.
Diabetes Education: American Diabetes Association
FulCare Behavioral Health: Ohio Department of Mental Health
Fulton County Health Center Board of Directors
Fulton County Health Center is an independent non-profit hospital and health center located in Wauseon, Ohio. The Health Center status as a not-for-profit facility ensures all financial resources remaining after expenses are paid are committed to improving the service, the technology, and delivery of healthcare for our patients. Since 1973, we have provided quality personalized care to residence of Fulton County and surrounding areas for a variety of healthcare needs.
A voluntary Board of Directors represents a broad spectrum of professional, business, and community leaders from throughout the Fulton County area. The Board of Directors of Fulton County Health Center is dedicated to providing the best possible care available at the lowest cost to the consumer. Below is a list of the Board of Directors of the Fulton County Health Center.
| Name, Title | Residency |
| --- | --- |
| Carl Hill, President | Wauseon, Ohio |
| Sandy Barber, Vice President | Wauseon, Ohio |
| Sharon Gillespie, Secretary | Lyons, Ohio |
| Mark Hagans, Treasurer | Archbold, Ohio |
| Rick Kazmierczak | Swanton, Ohio |
| Allen Liechty | Archbold, Ohio |
| Jennifer McCullough | Delta, Ohio |
| Stanley Multhauf | Swanton, Ohio |
| David Grieser | Pettisville, Ohio |
| Brett Kolb | Wauseon, Ohio |
| Charles Lash, M.D. | FCHC Medical Staff |
| Jon Rupp | Fayette, Ohio |
| Jay LeFevre | Delta, Ohio |