FCHC Welcomes Diala Almardeeni, MD and FCHC Ear Nose and Throat Clinic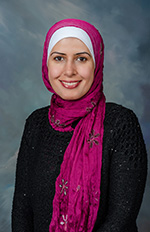 In March 2022, FCHC Medical Group welcomed Diala Almardeeni, MD and the office practice of FCHC Ear, Nose and Throat. Her practice is located on the main FCHC campus in the North Medical Office Building on the first floor in Suite 104.
Dr. Almardeeni will perform her surgeries in the FCHC Surgery Department.
Diala Almardeeni, MD is a specialty-trained physician in otolaryngology.  A physician who specializes in otolaryngology is more commonly known as an ENT, or Ears Nose and Throat physician. Dr. Almardeeni has completed 3-year advanced fellowship training in minimally invasive sinus surgery at Saint Elizabeth Medical Center, affiliated with Tufts University, Boston, MA. She earned her medical degree and completed her residency at King Abdulla University Hospital, Jordan University of Science and Technology, Jordan.
She sees patients of all ages for many disorders involving the ear, nose and throat.  Her main area of focus is sinus diseases, nasal septal deviation, and vasomotor rhinitis. She also sees patients with tonsils disease, ear infections and hearing loss. In addition, she treats pediatric sleep apnea, typically caused by large tonsils and adenoids. Standard procedures include endoscopic exam of the nose as well as evaluation of the larynx to assess hoarseness of voice using fiber optic scopes.
"My goal whenever possible is to treat patients using new techniques that are minimally-invasive and cause less pain," says Dr. Almardeeni. "Our clinic is e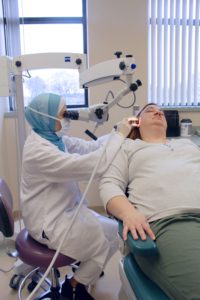 quipped with the latest technology in endoscopes that offer better visualization to help us in making the correct diagnosis and provide the optimal treatment. As an example, we even use microscopic guidance to remove wax and secretions in the ears."
Procedures and treatments offered by Dr. Almardeeni include:
In-office Procedures:
– Diagnostic nasal endoscope
– Diagnostic flexible fiberoptic nasopharyngoscope to examine the nose, pharynx and vocal cords
– Control of nasal bleeding with silver nitrate cautery (can be done in kids); also absorbable and non-absorbable packs
– Cleaning wax under oto-microscopic (special microscope for the ear) guidance
Surgical Procedures in the Operating Room:
– Minimally-invasive sinus surgery
– Endoscopic septoplasty using nasal scope, without any external incisions
– Cryotherapy of Vivian nerve to treat patients with excessive nasal secretions due to vasomor rhinitis
– Tonsillectomy
– Adenoidectomy
– Myringotomy and grommets insertion for fluids behind the ear
Dr. Almaerdeeni's is accepting new patients. Appointments can be made by calling 419-335-3712. She is also willing to speak to community groups about ear,  nose and throat issues and can be scheduled for a presentation by calling the same number.